Roof Mount Solar Ventilator
Product Detail
Product Tags
Roof Mount Solar Ventilator
Application Area:
Any places requiring air circulation, for example:
-Residential house
-Industrial workshop
-Agricultural green house
-Garage/basement
-Livestock
-Animal breeding house
Features:
Strengthen air circulation
Extend roofing lifespan
Remove heat, moisture & dust
Deduct harmful mildews
Prevent ice-dam
Reduce the heat load on air-conditioning ducting to help you save money
Function Description:
1.Improving air circulation
Taking advantage of the free & clean solar energy, this roof exhaust fan will pump out the interior heat & moisture to balance your house temperature, so as to provide a refreshing ventilation and more environmental-friendly surrounding, and to lower down your general power consumption cost.
2.Extending roofing lifespan
Being exposed long to the strong sun, your roofing underlayment may go weak and even lose efficiency under the very high temperature. This roof ventilator can help reduce such heat to prolong their lifespan and to help you save certain maintenance or replacement fee.
3.Reducing moisture & harmful mildews
When collided with chilly attic-roof in winter, the interior warm & humid air will condense into water droplets, such saturated humidity might cause dangerous electrical short
circuit or create mildews to harm your plasterboards. An adequate & more active indoor ventilation provided by this exhaust fan can help remove these moisture contents & harmful elements for you.
4.Preventing ice-dam
In snowy winter, interior warm air could melt those snows at roof to generate droplets falling down to the eaves. These droplets will then refreeze into ice damming on your roof and arousing dangers, this solar ventilator can help preventing such unsafe factors through keeping the indoor environment dry.
Patent Design Brushless Motor:
Our patent-designed wind guide cone with 24pcs turbine wind guide blades structure is adopted in this ventilator.
Following a 360-degree swirl ventilation mode and being free from outside airstream interferes, it can work efficiently in sunny days to exhaust out the indoor heat & smell and not let any exterior air going in, so as to keep the living & working environment always clean & fresh. In raining windy days, this air draft design can also efficiently prevent the rains or winds from flowing backward.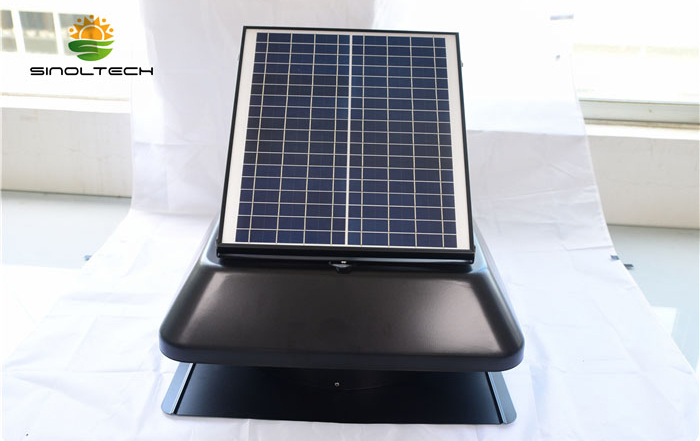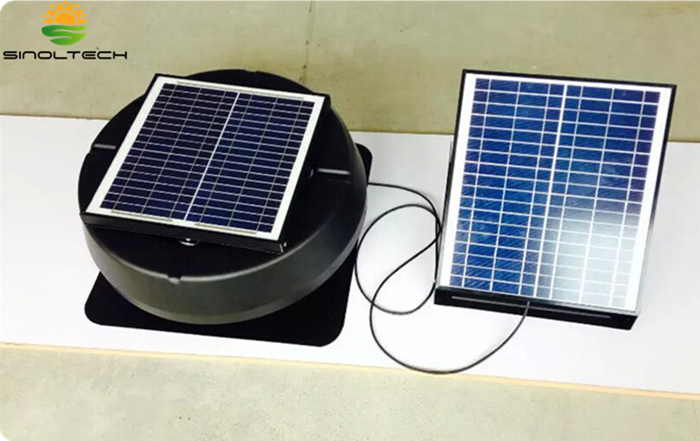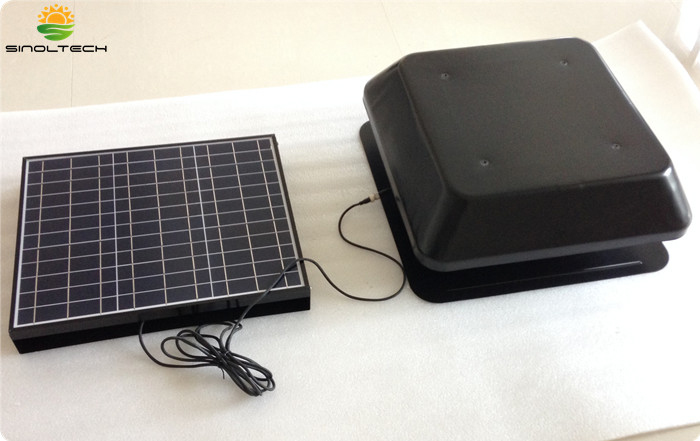 Roof-mount Solar Powered Attic Fan- Solar Panel Fixed
| | | | | | | |
| --- | --- | --- | --- | --- | --- | --- |
| Model No. | Solar PV Power/Dimension | Fan Size/Air duct Dia. | Housing cap | Working Condition | Battery | AC |
| SN2013009 | 12W/354*354*4.5mm | 12INCH/315mm | Round | Daytime under sun | Optional | Optional |
| SN2013004 | 12W/354*354*4.5mm | 12INCH/315mm | Square | Daytime under sun | Optional | Optional |
| SN2013010 | 15W/354*354*4.5mm | 12INCH/368mm | Round | Daytime under sun | Optional | Optional |
| SN2013005 | 15W/354*354*4.5mm | 12INCH/368mm | Square | Daytime under sun | Optional | Optional |
Roof-mount Solar Powered Attic Fan- Solar Panel Adjustable
| | | | | | | |
| --- | --- | --- | --- | --- | --- | --- |
| Model No. | Solar PV Power/Dimension | Fan Size/Air duct Dia. | Housing cap | Working Condition | Battery | AC |
| SN2013006 | 12W/365*365*25mm | 12INCH/315mm | Round | Daytime under sun | Optional | Optional |
| SN2013001 | 12W/365*365*25mm | 12INCH/315mm | Square | Daytime under sun | Optional | Optional |
| SN2013007 | 15W/365*365*25mm | 14INCH/368mm | Round | Daytime under sun | Optional | Optional |
| SN2013002 | 15W/365*365*25mm | 14INCH/368mm | Square | Daytime under sun | Optional | Optional |
Roof-mount Solar Powered Attic Fan- Solar Panel Adjustable
| | | | | | | |
| --- | --- | --- | --- | --- | --- | --- |
| Model No. | Solar PV Power/Dimension | Fan Size/Air duct Dia. | Housing cap | Working Condition | Battery | AC |
| SN2013008 | 20W/365*410*25mm | 14INCH/368mm | Round | Daytime under sun | Optional | Optional |
| SN2013003 | 20W/365*410*25mm | 14INCH/368mm | Square | Daytime under sun | Optional | Optional |
| SN2014008 | 30W/415*495*25mm | 14INCH/368mm | Round | Daytime under sun | Optional | Optional |
| SN2014006 | 30W/415*495*25mm | 14INCH/368mm | Square | Daytime under sun | Optional | Optional |
Roof-mount Solar Powered Attic Fan- Solar Panel Detachable
| | | | | | | |
| --- | --- | --- | --- | --- | --- | --- |
| Model No. | Solar PV Power/Dimension | Fan Size/Air duct Dia. | Housing cap | Working Condition | Battery | AC |
| SN2014004 | 30W/415*495*25mm | 14INCH/368mm | Round | Daytime under sun | Optional | Optional |
| SN2014002 | 30W/415*495*25mm | 14INCH/368mm | Square | Daytime under sun | Optional | Optional |
CUSTOMIZATION SERVICE:
SOLAR VENTILATOR WITH BATTERY SYSTEM
Solar battery system (Backup battery for above solar attic fan)
Model No.

Solar PV Power/Dimension

Battery capacity

Housing cap

Application

SN2013011

20W/365*410*25mm

9.6Ah Lithium

Round

Workable with all models of roof mount solar attic fans.

SN2015005

30W/415*495*25mm

9.6Ah Lithium

Square

SN2015024

40W/550*495*25mm

9.6Ah Lithium

Round

Download DATA SHEET
---
Previous:
Indoor Solar Lauvered Attic Fan
---